Subsea Engineering Services
INSTALLATION & OFFSHORE SUPPORT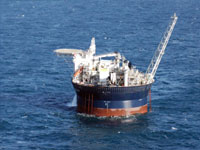 With CDC's extensive range of offshore services growing, engineering delivers support and innovative technical solutions to a comprehensive range of installation and offshore support issues.
IRM
Engineering services can facilitate the development of inspection plans and support the execution phase which involves the inspection, data collection and reporting of findings and operational reports.
Engineering can provide engineering assessment of inspection findings to review data and establish asset integrity. Engineering services can also be provided for the development of maintenance and repair solutions.
Drawing on the services provided during the IRM process, information can be fed back into the planning and strategy development phase providing clients with access to a range of beneficial and critical information.
Engineering services can provide a number of maintenance and repair solutions based on the results of inspection findings to ensure that assets continue to fulfill their design requirements.
EPRS
Engineering services is a leading provider of services for the establishment of Emergency Pipeline Repair Systems (EPRS) that enable rapid response to damaged pipelines.
ABANDONMENT AND DECOMISSIONING
Engineering services has extensive knowledge of installed subsea systems globally and with access to a number of integrated offshore services we are ideally placed to provide input to or development of decommissioning philosophies, procedures and abandonment plans.